Lockdown Locks
If there was ever a time to realise that self maintenance was one of life's little luxuries, a lock-down during a global pandemic would be it.
After a week or two of enjoying the time at home and getting the house spring cleaned ,it's about now that you may start to feel the panic set in that you are not able to make your usual scheduled in 'hair appointment' or eyebrow shape you once did. But self care and love have never been as important as a time like now.
Set aside one day in the week and make it all about YOU. And create your very own home salon and spa.
You'll be amazed how many products you will already have in your home, in your kitchen cupboards or makeup you haven't got round to experimenting with yet. Now is that time.
Since being on lock down I have been inundated with questions about hair maintenance.
1. How to cover grey?
2. How to get rid of those damaged ends?
3. How to get your frizzy locks sleek and what to use?
First and foremost I think this time is a fantastic way to give your hair a much needed detox some of you need and show it the love it deserves to create that perfect 'fresh start ' hair post lock down. Trust me your hairdresser will love you for it.
Dry over-processed hair / colour damage:
For those of you that have had a hair colour or goal in mind but couldn't go through the process because your hair isn't in the best condition or you had somewhere to go so time was tight, now is your chance. Now is when you can take time out to let your hair heal. Use weekly hair masks on freshly washed hair, towel dry and Basque your hair in oil based masks to help repair and seal and strengthen you damaged locks. The beauty of this is now instead of keeping it on for 30 mins , put it in morning and leave it on all day for maximum benefits.
Pharmacies and Supermarkets carry a vast range of good hair care and online deliveries via Amazon and Beauty sites such as lookfastastic.com  will enable you to still get the salon professional products you love to create your Salon at Home experience.
I recommend  Damage Rewind  Shampoo & Reconstructing Conditioner by Fudge professional. It contains an Opti-plex technology that repairs hair a whopping 90% instantly. A little goes a long way with this product and it smells like heaven. You'll have dreamier hair just after 1 wash.
Even if your hair isn't in bad condition but your ends are in need of a trim, masks are a great way to prevent further fraying.  I love home made masks and using Organic ingredients that nourishes my skin and scalp too. Watch your hair grow!!
Raw Organic Coconut oil Is my fave with a couple of drops of Sandlewood essential oil to feel extra luxurious.
Lucy Bee  Raw Coconut Oil is my favourite.  Place hair in a ponytail, Warm up the coconut oil in the palms of your hands and massage through damp or dry hair. This is perfect while self isolating as I really like to leave this one on overnight. Its been the key to my super long tresses for years.
On a budget.
The key to saving on your beauty regime is NOT to compromise on the quality of your product but to find products with multi purpose use.
Egyptian Magic is without a doubt my number 1 recommendation.
I first saw this on a flight to LA and impulse brought it to see if it passed the 'long haul' hydration test. And to be honest it Superseded my expectations and has been in my personal and professional kit ever since.
As well as a face balm, rub a little of the ends of your hair to prevent split ends, use as a smoother to smooth down flyaways on freshly washed hair and to groom down baby hair when styling your hair a ponytail or braids. Made from literally 6 natural ingredients this balm has no end of uses.
Use to remove make up, soften cuticles, hydrate dry lips and give your face this most incredible glow under OR over makeup This product is worth every single penny.
Look out for the 3 in 1 Hair Food by Garnier. An affordable high street conditioner that can be used 3 ways. A conditioner, A rinse out mask and a leave in. Perfect if like me, the levels of hydration you need changes weekly. But if your on lock down you may as well treat yourself and do all 3. I love the Banana version especially.
Roots cover and white hair.
The last thing your probably want is to see in the mirror is your roots or worse, white hair staring back at you which is why the idea of a home hair colour feels like an option. But guess what, if it goes wrong who knows when you will be able to see a hairdresser to fix it. So, Don't do it!! For those not you that literally cannot withstand the white hair then if you are in what we call the brunette zone opt for a Semi permanent vegetable colour to blend the white hair as opposed to covering it. This is then easy for your usual hairdresser to work with without creating complications in the future. Root sprays such as Charles Worthington Root Concealer and Bumble and Bumble Colour sticks work a dream.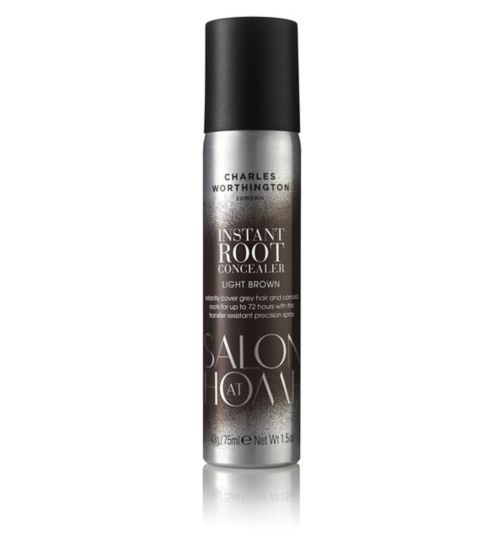 Got highlighted hair??  try lighter a concealing powder from Colour Wow to smudge out or maybe it's time to head for that 'on trend' Ombre youve always thought of doing.
Cinta Miller 
Celebrity Make Up Artist and Hairstylist.
Worked with the likes of Millie Bobbi Brown, Gemma Atkinson, Alexandra Cane, Anne Marie and Tom Grennan 
Working on many high profile shows at Fashion Weeks across London and Europe creating trends and campaigns and giving creative direction within the development of many music artists and billboard Advertisement. 
As an independent freelance make up artist and Hairstylist I try and utilise every product in the correct circumstances. 
A finalist at last year's creative head awards for Independent Stylist if the Year… being a contributor to the industries board of experts puts me in good stead to be trusted and in demand by a hugely high profile clientele both sides of the pond.